Diabetic Retinopathy
Diabetes is a global epidemic. Recent surveys predict that, by 2025, the number of patients with diabetes will rise to a staggering 380 million . Nearly all patients with Type 1 diabetes and >60% of patients with Type 2 diabetes will develop some form of diabetic retinopathy within the first two decades they have the disease. The duration of diabetes, pregnancy, puberty, level of blood glucose control, hypertension, serum lipid levels, and cataract surgery are risk factors that may contribute to the progression of diabetic retinopathy .
The cause of diabetic retinopathy is gradual damage to the tiny blood vessels that supply blood to the retina. These damaged blood vessels can lead to cause visual loss. According to the International Clinical Diabetic Retinopathy Disease Severity Scale , Diabetic Retinopathy is classified into two stages:
Non Proliferative Diabetic Retinopathy (NPDR) and
Proliferative Diabetic Retinopathy (PDR).
From no apparent retinopathy, the disease progresses from mild, moderate, and severe NPDR to PDR.
NPDR is the early stage in which symptoms can be non-existent or mild. The blood vessels in the retina are weakened causing tiny balloon-like swelling called microaneurysms which can leak. Rupture of the weakened capillaries causes leakage of blood and the formation of haemorrhages (small dots, larger blots or 'flame' shaped). Other features of NPDR include Intraretinal Microvascular Abnormalities (IRMAs), exudates (leakage of fats, proteins and fluid from damaged blood vessels), and cotton wool spots (fluffy white or yellow patches). Leakage of fluid into the central part of retina called the macula leads to Diabetic Macular Oedema (DMO) characterised by swelling and blurred vision. This is most common case of severe loss of vision in patients with diabetes.
Causes of Diabetic Retinopathy
Two landmark clinical trials , the DCCT (Diabetes Control and Complications Trial) and UKPDS (UK Prospective Diabetes Study), confirmed the strong relationship between persistent high blood glucose levels (hyperglycaemia) and the development and progression of diabetic retinopathy.
However, the exact mechanism underlying damage to the retina remains unclear. In recent years, research findings have suggested various interconnecting biochemical pathways linking high blood glucose with diabetic retinopathy. These include …
increased polyol pathway flux, which causes the accumulation of damaging levels of sorbitol in cells;
activation of the Diacylglycerol Protein Kinase C (DAG-PKC) pathway;
increased expression of growth factors, such as Vascular Endothelial Growth Factor (VEGF) and Insulin-like Growth Factor-1 (IGF-1);
haemodynamic changes, including accelerated formation of advanced glycation end products (AGEs);
activation of the Renin Angiotensin System (RAS); and sub-clinical inflammation and accumulation of leukocytes in the small retinal blood vessels.
Herbal Medicine for Diabetic Retinopathy
Herbal medicine or the medicinal use of plants (herbs) has been used for many centuries to treat a wide array of different health conditions. In the present day, large sections of the population in developing countries look to complementary and alternative medicine for their medical treatments. Nearly 80% of the world's population uses herbs to help them with primary health care, including treatments for anxiety, depression, hypertension, asthma, cancer, and skin problems such as eczema, as well as diabetes.
1. Bilberry
Bilberry (Vaccinium Myrtillus) is a dwarf shrub reaching 50cm in height. It has lantern-shaped, green-pink flowers and edible blue-black berries.
Recent animal studies have suggested that bilberry may combat diabetic retinopathy . In a clinical study in humans, bilberry demonstrated significant improvement in retinopathy in patients with diabetes and hypertension . Matsunaga and colleagues found evidence suggesting that bilberry may inhibit the growth of new blood vessels in PDR (proliferative diabetic retinopathy).
Bilberry may be eaten, drank as tea or taken in the form of tablets or capsules.
The administration of bilberry has not been associated with any major side effects. Minor side effects may include dry eyes, dry mouth and upset stomach. Patients with diabetes may need to exercise some caution since bilberry can potentially lower blood glucose.
There is limited safety information on the use of bilberry by breastfeeding and pregnant women.
2. Ginkgo Biloba
Ginkgo biloba is a deciduous tree with fan- or duck-foot-shaped, waxy-coated leaves. The leaves are dark green during summer and turn golden in fall.
The leaves of the ginkgo tree have been used medicinally for the treatment of blood clotting disorders, memory loss, fatigue, earlystage Alzheimer's disease, vascular dementia, peripheral claudication, age-related macular degeneration and tinnitus of vascular origin
Some preliminary research has suggested that Ginkgo biloba extract is beneficial for the treatment of diabetic retinopathy. Studies have reported that ginkgo extract potentially reverses diabetes-altered changes in the flow properties of the blood cells of diabetic patients , along with others reporting significant improvement in colour vision in patients with early retinopathy , reversal of diabetes-impaired visual function and reduction of optic nerve lesions and the counteracting of oxidative stress in the retina .
In a clinical study , ginkgo biloba extract given to patients with Type 2 diabetes reduced blood-clot formation, increased the flexibility of red blood cells and increased blood flow to the retina. These results suggest that ginkgo biloba extract could increase the oxygenation of retinal tissue in diabetic patients
Possible side effects of ginkgo include an upset stomach, nausea, rash, diarrhoea, dizziness and headaches. If these side-effects become persistent, it's important that patients consult their doctor. Pregnant women should avoid ginkgo biloba because its antiplatelet action may lead to prolonged bleeding.
3. Quercetin
Chemical structure of quercetin, a plant-derived phytochemical found in apples, onions, teas, red wines and many other foods. The chemical structure has three rings and five hydroxyl groups.
Quercetin is present in red wine, green tea, apples, berries, cauliflower, cabbage and onions. It is also available as a dietary supplement. However, just a small percentage of the quercetin in these foods and dietary supplements actually enters the bloodstream.
Quercetin has various health benefits, alleviating arthritis, allergies, macular degeneration, heart disease, gout and some cancer. Scientific evidence has also suggested that the use of quercetin may prevent the abnormal growth of new blood vessels that characterises PDR Side-effects of quercetin can include headaches or tingling in arms and legs. High doses of quercetin may cause kidney damage. Quercetin use should be avoided by pregnant and breastfeeding women.
4. Grape Seed Extract
The active components of grapeseed extract include oligomeric proanthocyanin (OPC), a powerful antioxidant. Preliminary studies have reported that OPCs have the potential to combat the progression of diabetic retinopathy . In a controlled French clinical study , patients with diabetes taking 150 mg/day of OPCs from grapeseed extract showed less progression of diabetic retinopathy compared to untreated placebo controls. Grapeseed extract is available as capsules and tablets. Although grapeseed is safe to eat, taking it may cause adverse effects, such as headache, dry or itchy scalp, dizziness and nausea.
5. Benfotiamine
Chemical structure of benfotiamine. It is a synthetic S-acyl derivative of thiamine (vitamin B1).
It is found in food in only small amounts in crushed garlic and other root aromatic vegetables such as onions, shallots and leeks.
It has been suggested that benfotiamine could raise the blood and tissue levels of thiamine and thereby protect against those health problems associated with low thiamine levels . There is also evidence showing that benfothiamine may prevent the development and progression of many diabetic complications, including diabetic retinopathy . In animal studies, the retinas of diabetic rats given benfothiamine remained free of diabetic retinopathy . Studies over many years in Europe have shown that benfotiamine is safe to use for the treatment and prevention of diabetic retinopathy and other complications of diabetes. The use of benfotiamine has no reported side effects, but patients may experience upset stomachs and skin rashes on any part of the body.
6. Alpha-lipoic Acid
Alpha-lipoic acid (ALA) is an organosulfur compound derived from octanoic acid. It is made in the body and serves an important function in cellular metabolism.
In the body, it serves an important role in converting glucose into energy. ALA has also been shown to have powerful antioxidant properties.
Although ALA is found naturally in every cell in the body, it can also be ingested from spinach, broccoli, peas, Brewer's yeast, Brussels sprouts, rice bran, potatoes, tomatoes and organ meat, such as heart, liver and kidneys.
The health benefits of ALA include combating aging, cancer, diabetes, and neurodegenerative and cardiovascular diseases . ALA has shown the potential to combat the loss of vision in diabetic animals
In a two-year clinical study, the administration of ALA slowed the progression of diabetic retinopathy. Interestingly, in combination with other known antioxidants (genistein and vitamins), ALA appears to be much more effective as a treatment for diabetic retinopathy Taking ALA is safe. Minor side effects may include skin rashes, abdominal pain, diarrhoea, nausea and vomiting.
7. Fish Oils
Chemical structures of (A) Docosahexaenoic (DHA, cervonic acid) and (B) eicosapentaenoic (EPA, timnodonic acid) omega-3 fatty acid molecules.
Fish oil comes from the tissues of fatty fish, such as salmon, tuna and mackerel. Fish oil is rich in omega-3 fatty acids, eicosapentaenoic acid (EPA) and docosahexaenoic acid (DHA). Omega 3 is not made by the fish but rather accumulates from their dietary intake. DHA is found mostly in the human brain, retina, skin and sperm. It plays an important role in maintaining optimum brain and visual function and normal growth and development.
Taking omega 3 supplements lowers blood pressure and cholesterol and reduces blood clotting. The retina contains high levels of DHA, which suggests that this fatty acid serves an important function in the eye . DHA levels are significantly decreased in the retina and plasma of patients with diabetes. Recently, scientific evidence has suggested – that omega 3 has a favourable effect on the onset and progression of diabetic retinopathy.
8. Green Tea
Green tea (Camellia sinensis) belongs to the plant family Theaceae. It grows as a large shrub with evergreen leaves in parts of Eastern Asia,
Chemical structure of the major catechins in green tea. (A) epicatechin (EC); (B) epigallocatechin (EGC); (C) epicatechin-3-gallate (ECG); (D) epigallocatechin-3-gallate (EGCG).
The list of health benefits from consuming green tea includes the prevention of cancer, weight loss, alleviation of arthritis, anti-viral and anti-bacterial properties, as well as preventing cardiovascular diseases, cataracts, glaucoma, age-related macular degeneration (AMD) and neurodegenerative diseases (Alzheimer's disease and Parkinson's disease) and having cholesterol-lowering effects There is also growing evidence that green tea may prevent the development and progression of diabetic retinopathy. In diabetic rats, green tea reduces the oxidative stress on, inflammation of and damage (for example the formation of acellular or empty tubes with no cells and the loss of pericytes) to the small retinal blood vessels
9. Garlic
Garlic is a member of the same family as onions and leeks. The plant's bulbs grow underground and are made up of a number of segments called cloves.
Garlic contains high concentrations of antioxidants. Traditionally, garlic has been used to combat various diseases and conditions, including atherosclerosis, high cholesterol, high blood pressure and diabetes, as well as to boost the immune system . There is also some evidence suggesting that garlic can help against cancer .
In animal studies, the administration of garlic oil lowered diabetes induced oxidative stress and the activity of Angiotensin Converting Enzyme (ACE) in the plasma of diabetic rats. ACE inhibitors are common drugs that dilate blood vessels, improve the amount of blood the heart pumps and lower blood pressure . There is now growing scientific evidence linking ACE and diabetic retinopathy . Taking garlic is relatively safe, but side effects could include heartburn, bad breath, upset stomach, skin allergy, diarrhoea, nausea and vomiting.
10. Curcumin or Turmeric
(A) The Indian spice turmeric is bright yellow coloured herb belonging to the ginger family (Zingiberaceae).
(B) The curcumin compound in turmeric exists in at least two forms, keto and enol.
Curcumin or turmeric is derived from the rhizome of the Curcuma longa. One of the main components of curry powder, it is a widely used spice belonging to the ginger family, and has strong anti-inflammatory and antioxidant properties . Traditionally, curcumin is known to have remarkable medicinal properties. Recent scientific evidence suggests its health benefits include effects against some cancers, immune deficiencies, cardiovascular disease, Alzheimer's disease, diabetes, arthritis, glaucoma, Crohn's disease, stroke, liver disease, obesity and psoriasis. Since ingested curcumin has low bioavailability , a high dose has to be ingested to realize its beneficial effects.
Curcumin can exist in keto and enol chemical forms. The enol form is more stable in both the solid phase and in solution.
Some scientific evidence suggests that curcumin may be beneficial in the prevention and treatment of diabetic retinopathy The use of curcumin does not appear to be associated with any side effects, but its anti-coagulant activity may increase the time it takes blood to clot.
11. Pycnogenol
(A) The maritime pine tree is native to southern and south-western Europe and extensively planted in south west France. It can grow up to a height of 30-40 meters, and the bark is very thick, scaly or plated, fissured and patterned red-brown, black and buff. (B) Chemical structure of proanthocyanidin.
Pycnogenol (trade name) is a plant extract from the bark of the French maritime pine tree (Pinus maritima). It contains the bio-flavonoids catechin and epicatechin. It also contains oligomeric proanthocyanidins (OPCs). Pycnogenol is an antioxidant fifty times more powerful than vitamins E and C. It also has antiinflammatory and anti-platelet effects .
Pycnogenol is thought to prevent or treat a wide range of chronic conditions, such as platelet aggregation, diabetes, hypertension, and cancer, wounds that have trouble healing, deep-vein thrombosis, high cholesterol, Alzheimer's disease and asthma.
There is evidence supporting the therapeutic use of pycnogenol for early diabetic retinopathy. In recent clinical studies, pycnogenol given to diabetic patients slowed the progression of retinopathy, with significant improvement in visual acuity. Side effects of pycnogenol have included stomach problems, headache, nausea, allergic reactions and dizziness. Since pycnogenol has been associated with glucose-lowering activity, diabetic patients on insulin need to exercise caution because its use could lead to hypoglycaemia.
12. Danshen
(A) Danshen is a perennial herb with violet-blue flowers that bloom in the summer, oval, finely serrated leaves and oval brown nut fruit. The roots are vivid scarlet red. (B) Chemical structure of Lithospermic acid
Danshen (Salvia miltiorrhiza), also known as red sage, is a perennial plant native to China and Japan. It grows to between 30-60cm in height on sunny hillsides with violet-blue flowers that bloom in the summer, oval, finely serrated leaves and oval brown nut. The vivid scarlet red danshen root is an ancient herbal treatment for heart disease, diabetes, renal failure, stroke, skin conditions (psoriasis and eczema), cancer, and wound healing . The use of danshen can also make blood "thin," thereby reducing blood clotting.
Recent animal studies have demonstrated that danshen is promising for the treatment of diabetic retinopathy. Furthering supporting its promise, a clinical study involving treatment with danshen inhibited the progression of retinopathy and significantly improved visual acuity in the treated patients .
Lithospermic acid B (LAB) isolated from danshen has been shown to possess strong antioxidant and anti-inflammatory properties, along with having the potential to prevent diabetic retinopathy in an animal model of Type 2 diabetes . The use of danshen has some side effects, such as an upset stomach with reduced appetite, itching, headaches and drowsiness.
13. Butcher's Broom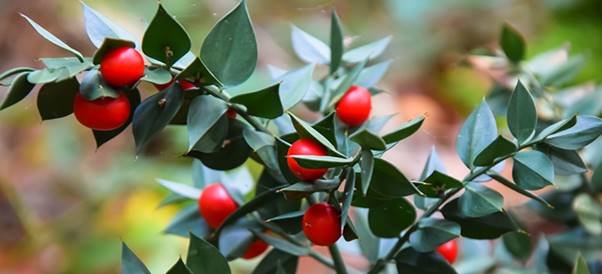 Butcher's broom is a shrub that is a member of the lily family. It has rigid, branched, and spiny leaf like stems with greenish flower and red berries
Butcher's broom (Ruscus aculeatus) is also known as box holly, knee holly, pettigree, sweet broom, and Jew's myrtle. It is a small, evergreen shrub that is a member of the Liliaceae family and grows throughout Europe and North Africa. The shrub has rigid flattened stems that resemble leaves called cladophylls with greenish flower and red berries. It can grow up to 30 cm tall. The plant produces tiny greenish white flowers during late winter and spring. The root and the stem have been used for medicinal purposes for the treatment of haemorrhoids, leg cramps, gallstones, varicose veins, urinary tract disorders, atherosclerosis and premenstrual syndrome (PMS).
The active chemicals isolated from Butcher's broom include the steroidal saponins ruscogenin and neoruscogeni, sterols, triterpenes, flavonoids, coumarins, sparteine, tyramine and glycolic acid.
To date, only one study has reported positively on the effectiveness of Butcher's broom to prevent the progression of retinopathy in patients with diabetes. The use of butcher's broom is relatively safe, but it has been associated with some side effects, including upset stomach, nausea and contact dermatitis in some patients topically exposed to butcher's broom. Since safety information is lacking, the use of butcher's broom should be avoided by pregnant and breast-feeding women.